Managed Document Services
Ricoh MDS encompasses the three fundamental parts of document management — input (the creation of information), throughput (how information moves around a business), and output (processing information in a way to add business value). We work to understand how your enterprise accesses, uses and stores information. Then, we adapt and optimize those processes to make them more efficient and effective — and help address related information security issues.
Ricoh MDS is delivered through our adaptive, customer-centric, five-phased approach. Our delivery model puts you at the center. Each MDS deployment is unique, aligning the services we provide with your particular business environment and strategic objectives. By following a five-phased process that take us from initial understanding to full-blown partnership, we work with you and adapt our strategies to your business model.
The Understand phase begins with an expert assessment of your "current" state, the Improve phase includes the design of a "desired" state. The Transform phase focuses on deployment, the Govern phase ensures all of your objectives are met and the Optimize phase addresses ongoing improvements and sustained savings.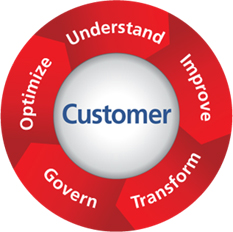 Where MDS Can Help